The Museum of North Carolina Handicrafts was founded in 1977 by dynamic Haywood County extension agent Mary Cornwell. Mary's vision was to establish a repository at the historic Shelton House to preserve and display traditional crafts created by the state's most renowned artisans as well as the Shelton family collection of Southwest Native American artifacts.
Today, The Shelton House is a Blue Ridge National Heritage Area Site, home to collections showcasing Appalachian agricultural living, Cherokee and Native American crafts, and North Carolina handicrafts. It was the first building in Haywood County to be recognized on the National Register of Historic Places and also provides insights to Western North Carolina's Revolutionary War and Civil War History.

History and Agriculture
The house, barn, and grounds are rich in Appalachian history and artisan handicrafts from yesterday and today. In the Dining Room of the main house, for instance, you'll see cabinets built in the 1800s by local craftsmen, and chairs hand-turned from Honduran mahogany by 5th generation chair maker Max Woody. The kitchen boasts a three-plank harvest table that was built around 1845 by Levi Caldwell of Cataloochee Valley, Dinnerware was made by master potter Ben Owen, and the eating utensils were donated by the Caldwell's and said to have been used in the 1700s. Both floors of the house contain rooms full of treasures that will transport you back in time.
In the barn, built in the early 1900s, you'll find antique farm equipment including items from the original dairy operation, and other equipment and implements in the Farm Exhibit room.
Cherokee and Native American Collection
Our Native American room stands in homage to Cherokee and Navajo crafters of rugs, blankets, and silver turquoise jewelry – artifacts that are central to the national cultural narrative of the Cherokee and Navajo people – their triumphs and unbearable tragedies. 

Visit our extensive collection of basketry including Cherokee, Navajo, Hopi, coastal Carolina sweetgrass, and pine needle weaving. The handiwork speaks to the need for utilitarian implements, the historical necessity of making them from what you have on hand, and the vision to turn them into incredible works of art!

Revolutionary and Civil War History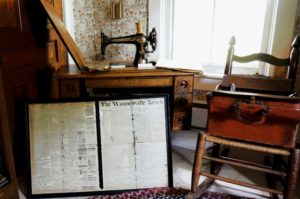 In our History Room, we have a collection of vintage medical supplies donated by a local practicing doctor who collected many of the items as a boy scout. Visitors will also see photos and military artifacts from the Civil War, World War II, and the Spanish American War. Look closely and you'll see an original copy of Waynesville's first edition of their first newspaper, dated January 16, 1884.  
Handicrafts
The Shelton House has a huge collection of quilts, coverlets, and other handicrafts. Our quilt collection alone includes items from  [possibly] 1805 to 2012. In the Quilt Room, you'll find a 1876 dressmaker's pattern for cutting dresses, a 1872 Wheeler Wilson sewing machine, and a great display of hand sewn, woven, crocheted, tatted, and other hand crafted items . In the Shelton House bedroom is a quilt made in 1853 by a 12-year old girl.
In addition we have early Seagrove pottery, early Brasstown wood carvings, and quilts and coverlets from the 19th through the 21st centuries.
Crafter Showcase
Focusing on unique crafts & crafters, the Shelton House initiated their inaugural Shelton House Crafter Showcase, opening on June 1, 2017. This special exhibit features selected crafters and displays their crafts in the Historic Shelton House Barn and Museum. Each month, one of the selected crafters will be featured inside the Museum with a display highlighting their background, talent and expertise. A Crafter Showcase Spotlight is held on the 3rd Saturday of each month at 10:00 am in the Barn and crafter items are for sale in the Shelton Carriage House Gift Shop. This program runs from April through September for 2019.
Come Visit the Shelton House Today!